Registrations are open for Ayelet Shachar's Public Lecture "Solidarity in Place? Hope and Despair in Postpandemic Membership" on June 14, 2023.
Please register with Sonja Sickert at office-shachar@uni-frankfurt.de by June 09.
We are happy to announce the final lineup for our panel "Reconfiguring Democratic Citizenship in Uncertain Times", which is part of the Congress "Political Theory in Times of Uncertainty" (Bremen, 27-29 September 2023).
Chair: Sven Altenburger (Göttingen)
Panelists:
Oliver Eberl (Hannover/Darmstadt): Indigenous Citizenship and the Reconfiguring of Democratic Citizenship
Eva-Maria Schäfferle (Frankfurt): De-nationalizing the Demos, Re-nationalizing the Nation: A proposal to untie the knot between national citizenship and demos membership
Cain Shelley (Frankfurt): The Civic Duty to Organize
Rieke Trimçev (Greifswald): The Vigilant Citizen and the Wager of Politicization: Recasting the Liberal Imaginary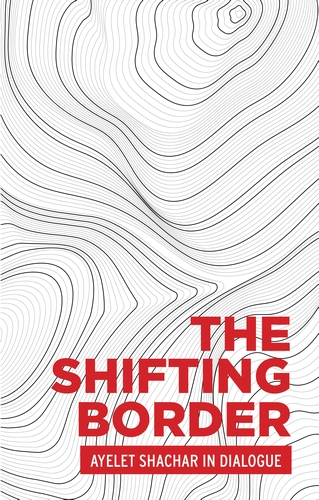 The prize is awarded every two years by the Canadian Political Science Association. It recognises the author of the best book published in English or in French in the field of political theory.

Ayelet Shachar is the Head of the "Transformations of Citizenship" Leibniz Research Group. 

"The Shifting Border is at once creative and authoritative in its treatment state borders as concrete yet ephemeral, and as established yet shifting. Dr. Shachar's specific intervention – of relaxing the linkage of asylum with the border – opens up generative conceptual and legal terrain for readers to contemplate the implications of accepting the terms of the shifting border by subverting them. An important impact of Dr. Shachar's analysis is to reorient theorical and practical examinations of boundaries in contemporary times. Embracing scholarly work as a dialogue, the book is structured with a central essay by Dr. Shachar, responses by a selection of interlocutors, and her reply to their insights. This structure is novel and refreshing and, in combination with highly sophisticated and substantiated argument, results in a work that will remain significant to scholars of politics, political theory, and international relations."
2022. Ayelet Shachar. Instruments of Evasion: The Global Dispersion of Rights-Restricting Migration Policies, California Law Review, 110(3), 967-1009
2022. Eva-Maria Schäfferle, Strangers in each other's lands: Democracy, migration, and inclusion in a mobile world, Constellations, online first
2022. Benjamin Boudou and Marcus Carlsen Häggrot, Special issue: Electoral representation revisited, Critical Review of International Social and Political Philosophy, including B. Boudou, Representing non-citizens: a proposal for the inclusion of all affected interests
2022. Benjamin Boudou, Good concept, bad politics? The heuristic value of hospitality, Social Research, 89(1), 69-93
2022. Ayelet Shachar, Expanding Protection: Global Lessons from the Ukrainian Refugee Crisis, Ethics and International Affairs
2022. Symposium on Ayelet Shachar, The Shifting Border: Legal Cartographies of Migration and Mobility, published in the European Journal of Political Theory. Papers by Avery Kolers, Patti Tamara Lenard, Colleen Murphy, Alex Sager, an introduction by Elizabeth Cohen, and the reply to her critics by Ayelet Shachar
2021. "Political theory today", introduction to the anniversary issue of Raisons Politiques, by Benjamin Boudou and Astrid von Busekist
2021. Benjamin Boudou, "Migration and the critique of 'state thought': Abdelmalek Sayad as a political theorist", European Journal of Political Theory, online first
14 June 2023; 16:00-20:00
Public Lecture by Ayelet Shachar
Solidarity in Place? Hope and Despair in Postpandemic Membership
Welcome Comments by Rainer Forst (Frankfurt)
Discussion with Jürgen Bast (Gießen), Vincent Chetail (Geneva), Moria Paz (Stanford), Janna Wessels (Amsterdam) and Lukas Schmid (Florence)
Goethe University Frankfurt, Building "Normative Orders", Room EG 01+02 (ground floor)
Please register with Sonja Sickert at office-shachar@uni-frankfurt.de by June 09, 2023.
Public Lecture by Seyla Benhabib
"The Crisis of International Law and its Implications for the Refugee Convention"
June 29, 2022 | 18:00
Goethe University Frankfurt | Building Normative Orders | Ground Floor (EG.01)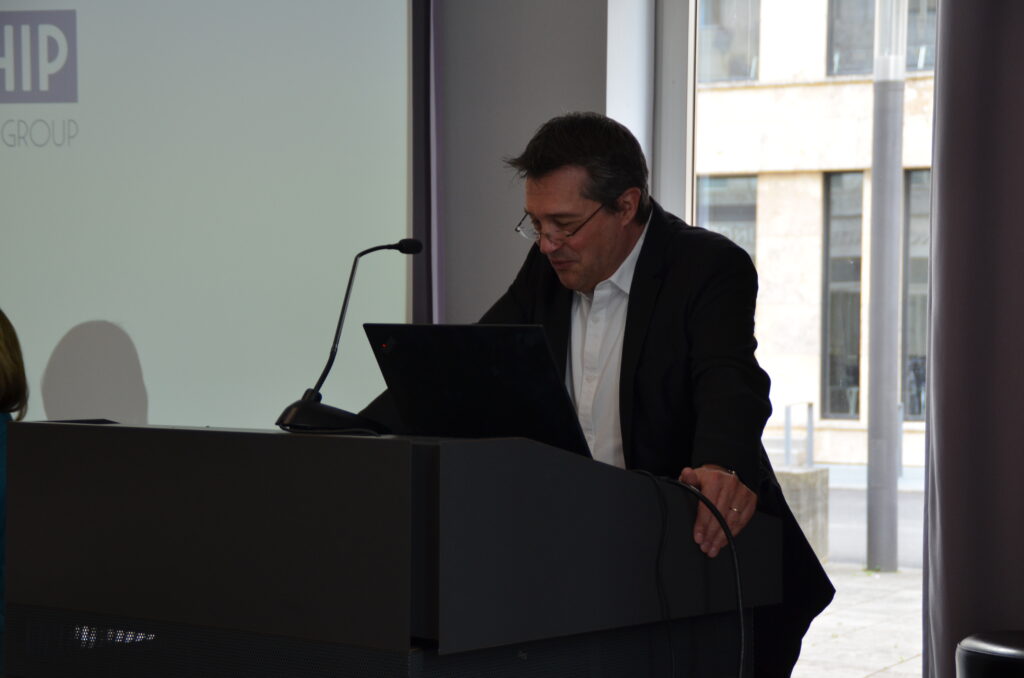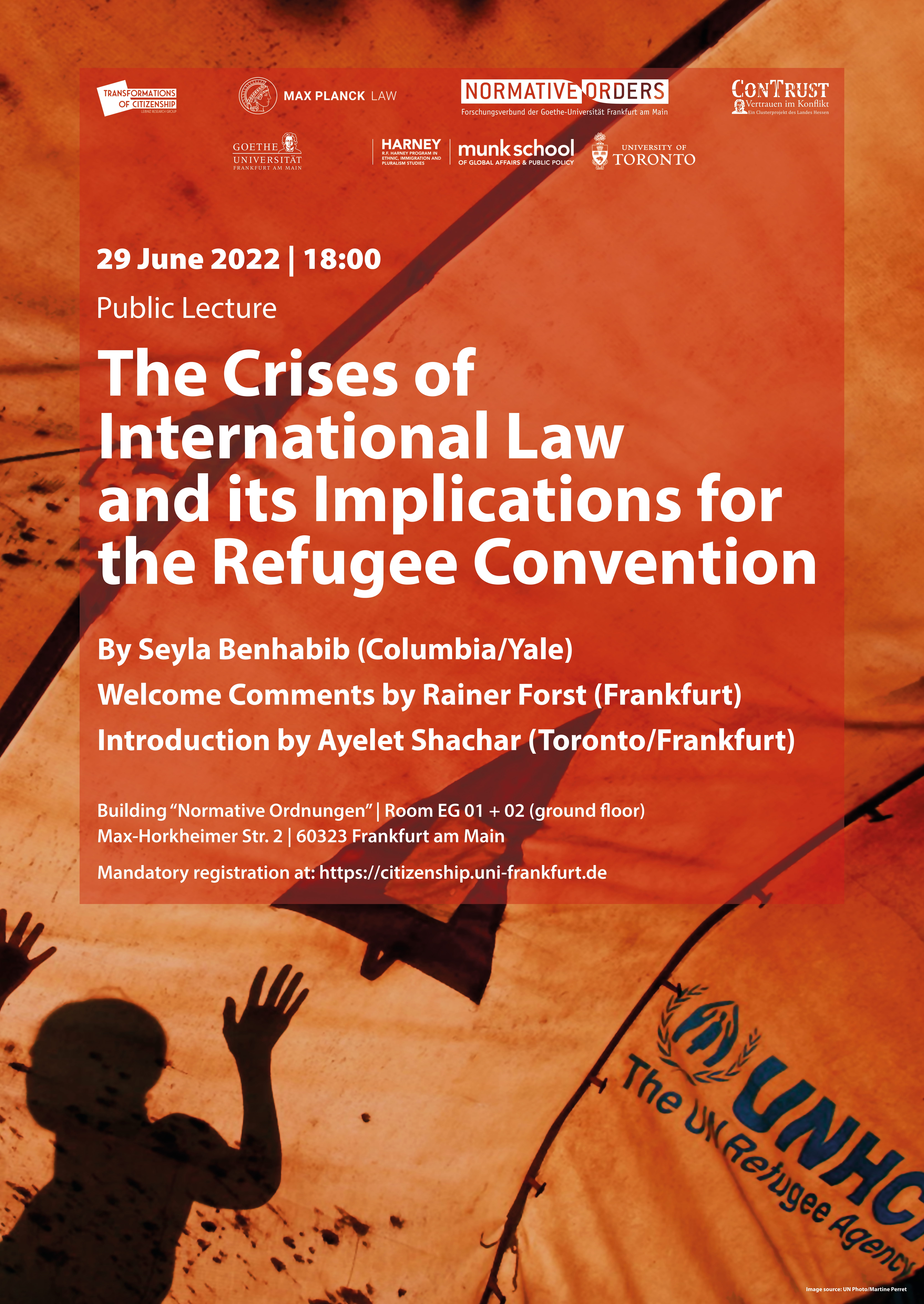 ---

Borders, Territory and Rights: Changing Legal Cartographies of Migration and Mobility
June 30 – July 1, 2022
Goethe University Frankfurt | Building Normative Orders | Fifth Floor (5.01)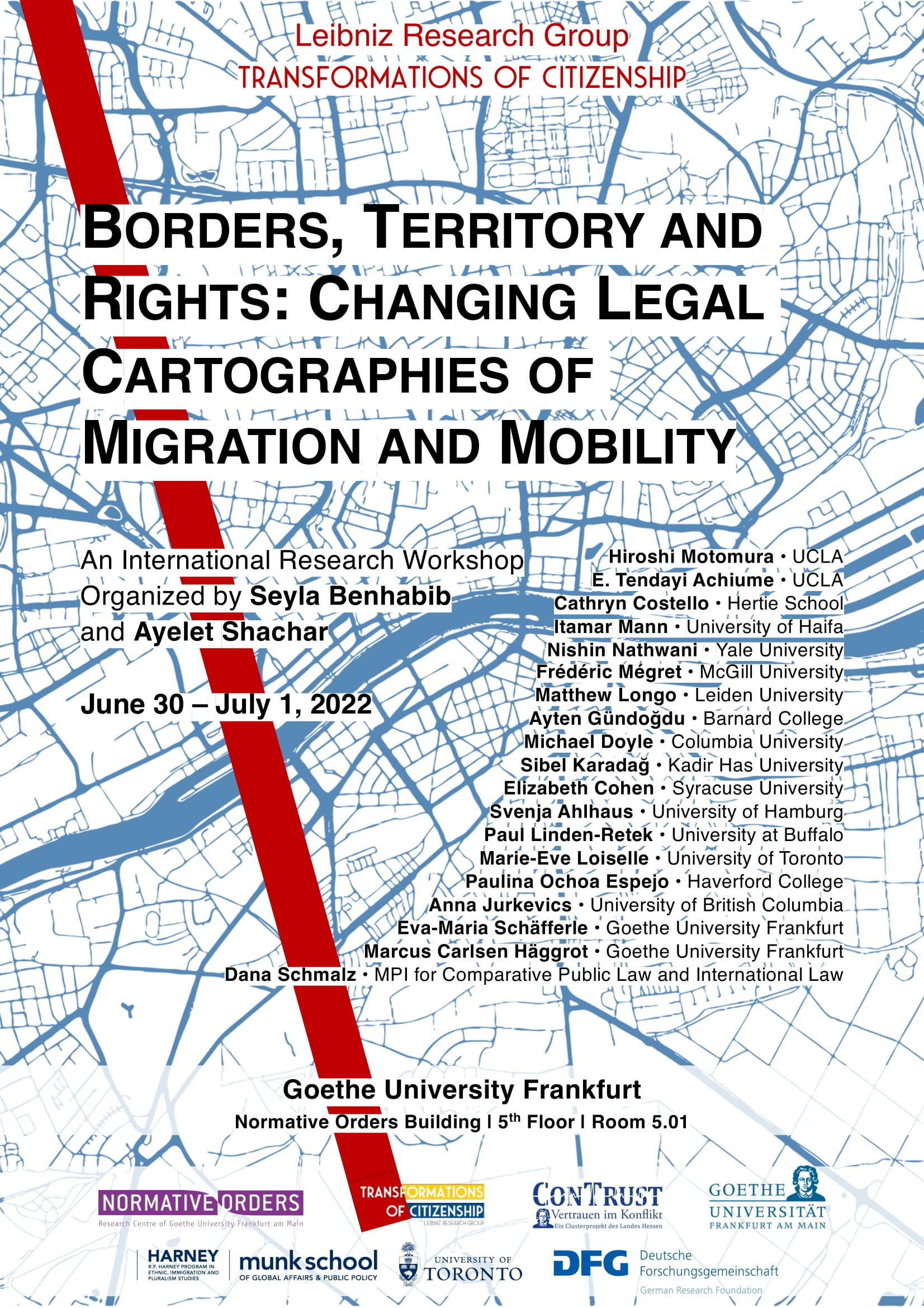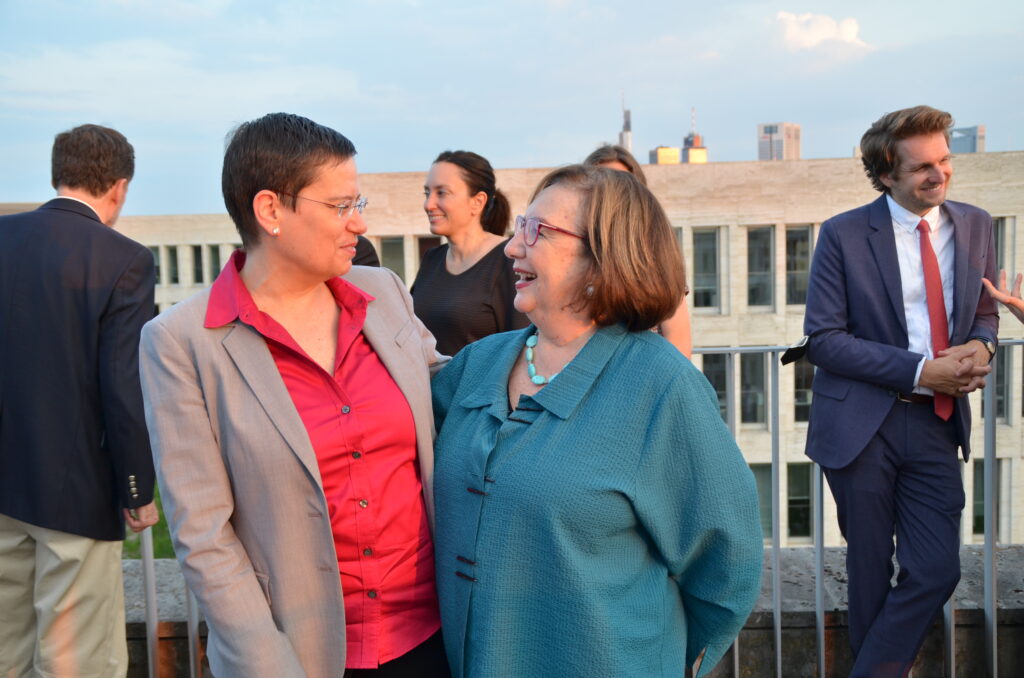 JUNE 30

10:00 – 10:30 | Welcome and opening remarks by Seyla Benhabib and Ayelet Shachar

Panel 1. RIGHTS: Rethinking national and international human rights protection
Chair: Ayelet Shachar

10:30 – 11:30
Hiroshi Motomura (UCLA), "Reflections on the Relationship Between Refugee Protection and Immigration Policy"
Michael Doyle (Columbia University), "When States Cannot Protect their Citizens from the Climate: Climate Induced Migrants and the Protection of Forced Migrants in the Model International Mobility Convention"
11:45 – 12:45
Cathryn Costello (Hertie School), "Flight from Ukraine, Group Protection and Equality between Refugees"
Paul Linden-Retek (University at Buffalo), "'Safe Third Country': A Theory of a Dangerous Concept and the Democratic Ends of International Human Rights"

Panel 2. GOVERNANCE: Democratizing shifting borders
Chair: Benjamin Boudou

14:00 – 15:30
Svenja Ahlhaus (University of Hamburg), "Invited, Invented, and Inverted Representation of Refugees beyond Sovereign Borders"
Eva-Maria Schäfferle (Goethe University Frankfurt), "Justice and Democracy in Migration: A Demoi-cratic Bridge towards Just Migration Governance"
Frédéric Mégret (McGill University), "Should Refugees be Allowed to Choose Where They Claim Asylum?"
16:00 – 17:00
Paulina Ochoa Espejo (Haverford College), "Three responses to shifting borders: Sovereigntism, cosmopolitanism, and the Watershed Model"
Elizabeth Cohen (Syracuse University), "Temporality, Bordering, and the Rights of People Seeking Refuge"

JULY 1

Panel 3. TERRITORY: Reconceptualizing the geography of states
Chair: Seyla Benhabib

10:00 – 11:30
Nishin Nathwani (Yale University), "The Materiality of Territory"
Matthew Longo (Leiden University), "Against Gulliver: Linear Borders, Territoriality and the Problem of Naturalness"
Itamar Mann (University of Haifa), "What is maritime legal thinking?"
11:45 – 12:45
Dana Schmalz (Max Planck Institute for Comparative Public Law and International Law), "The role of proximity for states' obligations towards persons seeking protection"
Marcus Carlsen Häggrot (Goethe University Frankfurt), "Deterritorialised Legislatively Constituencies: A Conditional Defence"

Panel 4. BORDERS: Tracing transnational power relations
Chair: Eva-Maria Schäfferle

14:00 – 15:00
Anna Jurkevics (University of British Columbia), "Private Borders, Hidden Territories"
Sibel Karadağ (Koç University), "Degrees of Temporality, Cycles of Mobility: The Case of Turkey"
15:15 – 16:45
Marie-Eve Loiselle (University of Toronto), "UNHCR and Biometrics: Refugees' Rights in a Legal No-man's Land?"
Ayten Gündoğdu (Barnard College), "On the Lawful Lawlessness of Borders: Rethinking Extra-territorialization as a Technique of Racialized Governance"
E. Tendayi Achiume (UCLA), To Be Confirmed
---